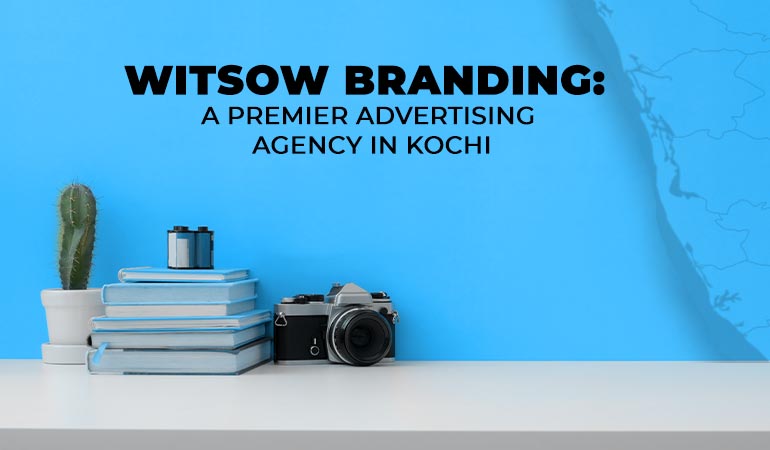 In the dynamic world of advertising, finding the right agency to meet your business needs can make a significant difference in achieving your marketing goals. When it comes to advertising companies in Kochi, Witsow Branding stands out as a premier agency with a stellar reputation. With its deep industry expertise, innovative strategies, and a track record of successful campaigns, Witsow Branding has earned its place as a trusted advertising agency in Kochi and a top choice for businesses in Kerala. In this blog, we will explore the reasons why you should choose Witsow Branding for your advertising needs.
Extensive Industry Experience:
Witsow Branding boasts extensive industry experience in the advertising and branding domain. As a leading advertising agency in Kochi, they have worked with diverse clients across different sectors in Kerala. This rich experience allows them to understand the unique challenges and requirements of businesses operating in the region. By leveraging their deep insights, Witsow Branding can develop customized strategies that resonate with the local audience and drive meaningful results for your brand.
Comprehensive Range of Services:
As a full-service advertising agency, Witsow Branding offers a comprehensive range of services tailored to meet the diverse needs of businesses. Whether you require brand development, creative design, digital marketing, or media planning, Witsow Branding has the expertise to deliver exceptional results. Their skilled team of professionals excels in crafting compelling campaigns that effectively communicate your brand's message and capture the attention of your target audience.
At Witsow Branding, a strategic approach is at the core of their advertising philosophy. They understand that each business is unique and requires a customized strategy to achieve its objectives. By conducting in-depth market research and competitor analysis, Witsow Branding gains valuable insights into your industry landscape. This enables them to develop data-driven strategies that are not only creative but also targeted, ensuring maximum impact and return on investment.
Creativity is the hallmark of Witsow Branding's work. Their team of talented creative professionals possesses the skills and expertise to conceptualize and execute visually stunning and innovative campaigns. By combining compelling storytelling, captivating visuals, and strategic messaging, they create campaigns that leave a lasting impression on your audience. Whether it's designing eye-catching print ads, developing engaging social media content, or producing impactful videos, Witsow Branding excels in delivering creative excellence that sets your brand apart.
Integrated Digital Marketing Solutions:
In today's digital age, a strong online presence is essential for business success. Witsow Branding recognizes this and offers integrated digital marketing solutions to amplify your brand's visibility and reach. From search engine optimization (SEO) and social media marketing to content creation and email campaigns, their digital marketing expertise ensures that your brand effectively engages with your target audience across various online platforms. By harnessing the power of digital marketing, Witsow Branding helps your brand stay ahead in the digital landscape of Kerala.
Customer-Centric Approach:
At Witsow Branding, customer satisfaction is a top priority. They believe in building long-term partnerships with their clients based on trust, transparency, and open communication. By truly understanding your business objectives and aligning their strategies with your vision, Witsow Branding becomes an extension of your marketing team. Their dedicated account managers ensure that you receive personalized attention and regular updates on campaign performance, allowing you to make informed decisions and track the success of your advertising efforts.
Conclusion:
When it comes to choosing an advertising agency in Kochi, Witsow Branding emerges as a premier choice. With their extensive industry experience, comprehensive range of services, strategic approach, creative excellence, integrated digital marketing solutions, and customer-centric approach, they have established themselves as a trusted partner for businesses in Kerala. Whether you are a start-up or an established brand, Witsow Branding has the expertise and passion to create impactful campaigns that elevate your brand presence and drive growth. Partner with Witsow Branding and experience the difference of working with a premier advertising agency in Kochi.
Share on Facebook
Share on Twitter
Share on Pinterest